Before an independent Scotland can join the European Union, the Scottish government must begin the process outlined below:
Satisfying the Accession Criteria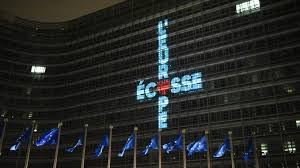 The accession criteria, or Copenhagen criteria (after the European Council in Copenhagen in 1993 which defined them), are the essential conditions all candidate countries must satisfy to become an EU member state.
These are:
political criteria: stability of institutions guaranteeing democracy, the rule of law, human rights and respect for and protection of minorities;
economic criteria: a functioning market economy and the capacity to cope with competition and market forces;
administrative and institutional capacity to effectively implement the acquis and ability to take on the obligations of membership.
The Union's capacity to absorb new members, while maintaining the momentum of European integration, is also an important consideration.
The EU reserves the right to decide when a candidate country has met these criteria and when the EU is ready to accept the new member.
For more details, see the following sections on the European Commission website:
According to Dr Kirsty Hughes, an independent Scotland could join the EU within 4-5 years from independence. Once Scotland has been accepted as a candidate, participated in negotiations and undertaken all the adjustments that would be demanded by the EU during that process, it is expected that all 27 EU member states would ratify the EU treaty.  
In the face of a legally and constitutionally valid independence process, an independent Scotland (with 47 years experience as part of the EU, within the UK) would be highly likely to succeed in joining.
Find out more: An Independent Scotland in the EU: Issues for Accession
Edited by Kirsty Hughes, 17 March 2020